Hello San Antonio Ultimate! I wanted to make you privy to one of the biggest Ultimate events of the year that is coming to Texas in little under a week! USA Ultimate National Championship is going to be hosted in Frisco, TX home to MLS team F.C. Dallas' practice facilities. If only San Antonio had our own MLS team with Cushiony practice fields which are a requirement of the MLS. I've played on three such facilities in Seattle, Houston, and Dallas – and let me tell you they are so choice! Hopefully, MLS comes to town soon! ANYWAYS, back to Nationals or Nats for short. The best of the best from United States and Canada in three divisions: men's, women's, and mixed compete to win the superbowl of our sport.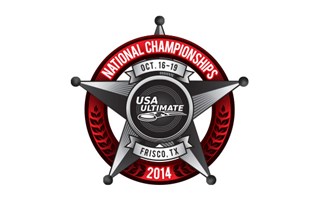 The tournament takes place October 16-19. Pool play games on Thursday. Pre-quarters and Quarter finals on Friday as well as consolation games. Semi-Finals of all divisions staggered through the day Saturday to be the most spectator friendly experience as possible. and for Sunday the main event of Finals to crown the National Champions of each division. Schedule, Seeding, and general info can be viewed here. ESPN and NGN will be live streaming games all four days!
If you did not know by now, Nationals is "kinda a big deal" This is the cream of the crop of the USA which for those who follow WFDF international play already know that USA regularly dominates in the same manner as USA Basketball in FIBA. Which means you're basically watching the best in the world at Ultimate.
On a personal note, I'm most looking forward to the Pool A match up on Thursday morning; Prairie Fire (Kansas City) vs. Doublewide (Austin). Prairie Fire was formed in 2007 with the stated goal of trying to make Nationals, I was lucky enough to play for them for the first two seasons and am so glad to see the team finally reach the goal of qualifying for nationals; it takes a lot of dedication and persistence to reach a goal after 7 years of trying, very admirable. Doublewide, I joined in 2010 and quickly we became a perennial semi-finalist team. Coincidence…. Absolutely . I have a lot of love for both teams and still know many teammates/friends on both.
~~~~~~~~~~~~~~~~~~~~~~~~~
San Antonio has a couple of players going to compete, Let's get to know them!
Reid Bacon- Reid is the current captain of Trinity University Turbulence. This is his first year competing at the highest level after he had a great tryout with Doublewide in Austin. He's come a long way from that awkward freshman to now just an absolute stud on and off the field. Reid has been privileged to be among the top 100 Under 23 year old National team tryouts list, and I have heard from a reliable source he is positioned as a strong choice to make the final cut, look out for that in mid-December
Aaron Saylor- Aaron is a defensive specialist for Cosa Nostra the mixed team based in Austin. Aaron is in the Air Force as a Nuclear detection specialist. He comes to San Antonio from the Triangle area of North Carolina, which is known for it's aggressive stingy defense and Aaron definitely fits that mold. We'll forgive him for playing in the mixed division 😉
If you see these guys before they take off for Frisco congratulate them and wish them luck!
Bottom line: Nationals is a great chance to watch and learn from the best in the game and it has become a very family friendly event, I encourage you to make the quick trip up and see for your self. This will most likely be the last time Nationals will be hosted this close to San Antonio, don't let the opportunity go wasted.
Cheers!